Let it Be What it May
Let it be what it may. This seems like such a fitting mantra for today – and not the today that's April 2, 2020. I'm referring to the big picture today, as in the state of being of our lives as a whole. Let it be what it may. Because, what else can we do? We are asked to avoid crowds of ten or more. Let it be what it may. Restaurants and bars and non-essential stores are closed for the duration. Let it be what it may. No graduation ceremony for seniors in high school or college. Let it be what it may. We're not happy about it, but, what else can we do?
Who knew when I first said that phrase about six months ago that it would be so fitting for right now? I can't even remember the circumstances under which I first made that statement other than the fact that it was something that I knew was out of our control. I remember meaning to say something along the lines of "whatever will be, will be" after an old Doris Day movie I used to watch with my mom when I was younger. But my tongue apparently stumbled and the words that came out instantly made my husband and I laugh. I shrugged my shoulders and threw up my hands. No explanation. No words could make sense of that moment. Let it be what it may.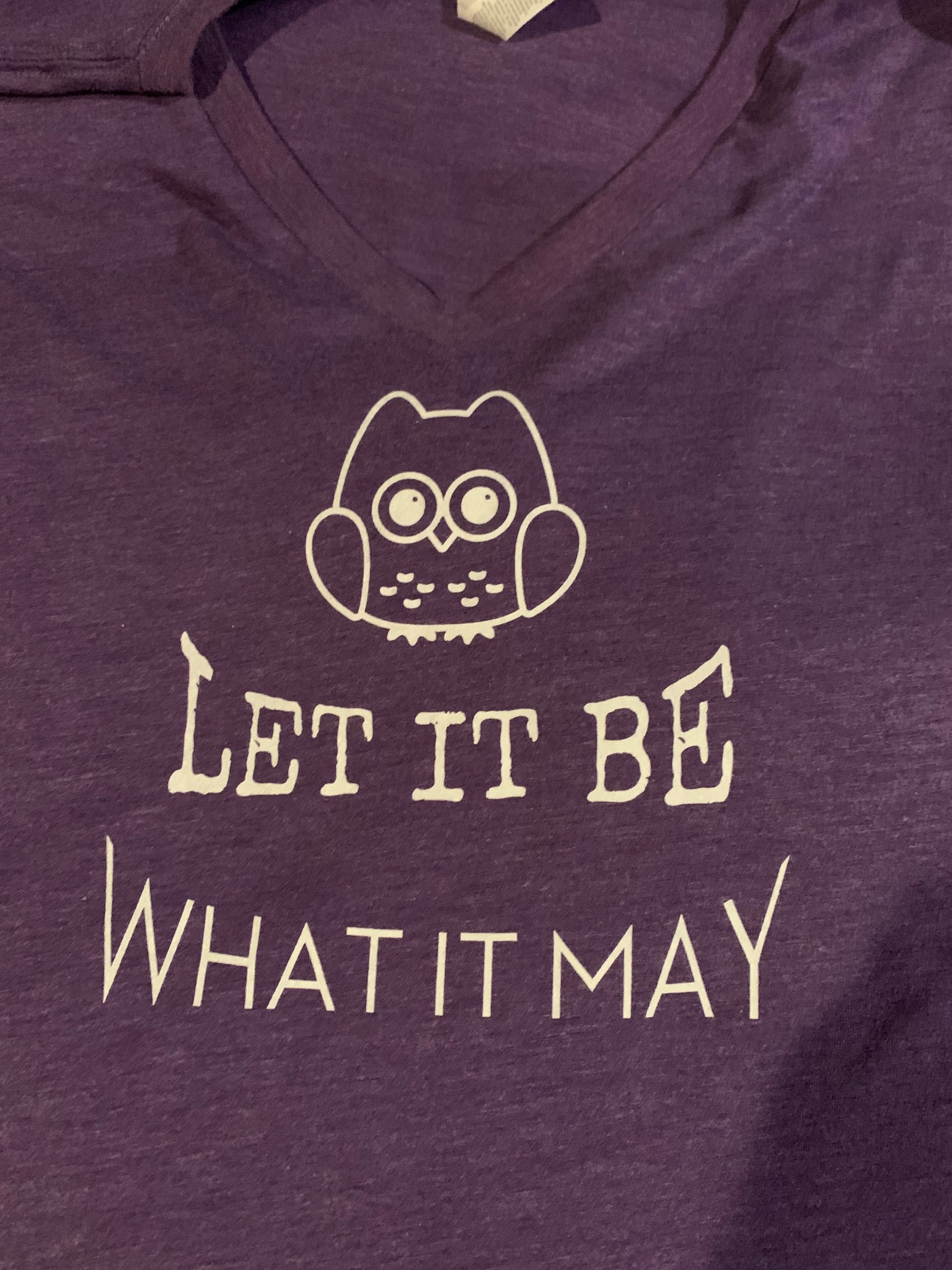 I'm thinking about this so much today, April 2nd, because I looked in the closet for a shirt to wear and found a T-shirt that my husband had made as a gift for me this past Christmas. It's a simple cotton, purple, v-neck T-shirt with a white owl outlined on the front – because I like owls a lot – with the words "Let it be what it may" printed underneath. I saw it hanging in my closet, remembered when I opened the Christmas gift, unfolded the shirt from the packaging, and saw the white printed words across the front of it, and I just smiled realizing how appropriate it seemed for today.
It's also fitting, I suppose, for my attitude about life in general. I've always believed that if there's something a person can do about a problem in life or work or home, absolutely do whatever you can to make things better. But sometimes you just can't. Sometimes there are situations you come against that you can't change or make different or better, no matter what you try to do. In those situations, instead of stewing or choosing to be angry or mad at the world, I'd rather accept my limits and make the best out of the situation as it exists. It's a way to choose happiness and look for the good in a situation rather than to be miserable and make others around me miserable in the process.
So, in this unprecedented time of quarantine that is new for the entire world, do what you can to make things better. Stay home. Only go out if you need groceries or medicine. Attend church virtually from your living room sofa. Work from home if possible. Those are choices within your control. What you can't control is how much the disease may or may not spread even when you are doing everything right. It will pass. Life will go back to at least some level of normalcy. Do what you can. Let it be what it may.