And She Keeps Smiling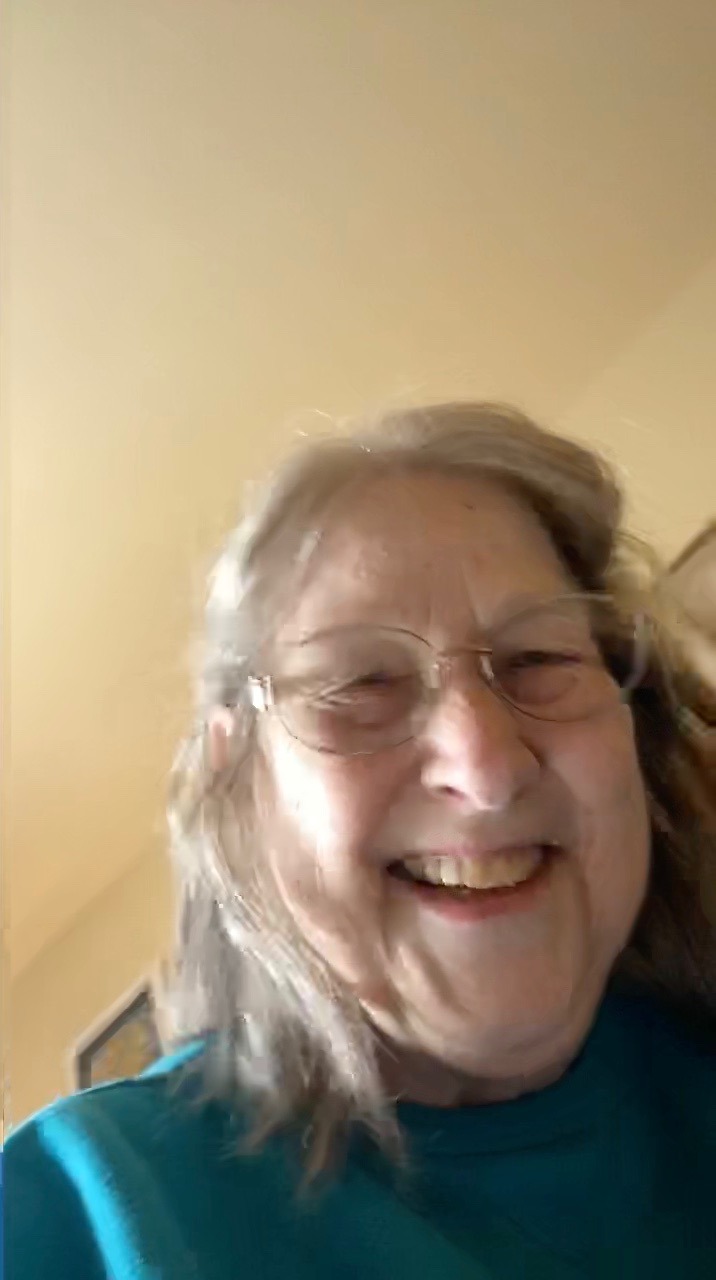 FaceTime – one of the many ways of maintaining contact with our loved ones from a distance. And it's one of the only ways we can see my mother-in-law right now who resides in the Memory Care Unit at Senior Star. We received a phone call today from one of the care partners who informed us that Vivian participated in a group activity where she painted a picture this morning. This was wonderful news! Encouraging her to participate in activities since she moved to assisted living last year has been very difficult – and not particularly effective.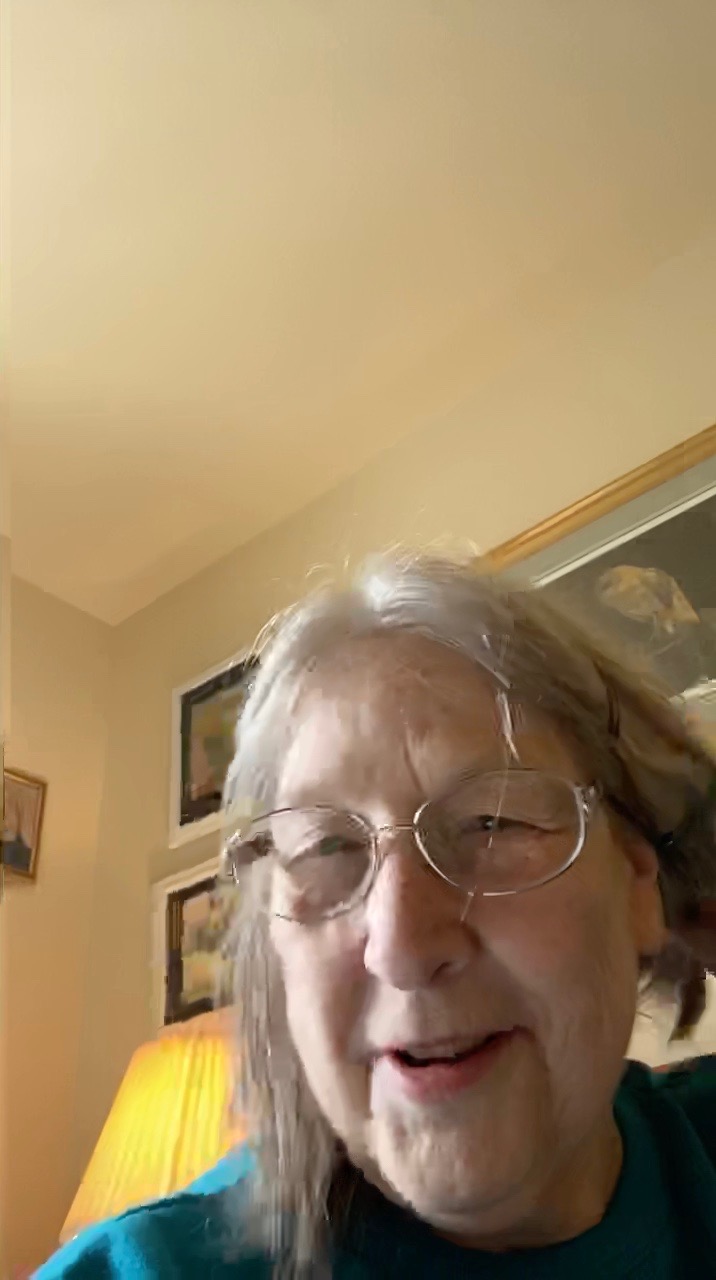 When we first moved her to Assisted Living at Senior Star last June, we thought it would be a really good experience for her. They had movie nights, craft and game times, happy hour – yes, happy hour every Friday. There were so many ways for her to interact with other people. We never considered the possibility that she would choose not to do so. She'd always been a fairly social person.

Life has been rocky for her since she moved from Assisted Living to Memory Care earlier this year. She's been in and out of the hospital for various infections or pneumonia. She hasn't had much opportunity to interact or participate in anything. Hearing about her special activities today made our hearts lighter. The nurse sent us a copy of the picture she painted, along with Vivian's explanation of her painting: "It is springtime. Things come to life! This is a picture of all the colors you see in spring. Nothing in particular, just colors of spring. I painted an animal, a dog who needs to decide if he wants to keep moving or stay. There are types of conglomerations of other things to eat all over the place." I'm not sure which object is the thinking dog, but I definitely see resemblances of Springtime. She always loved her garden!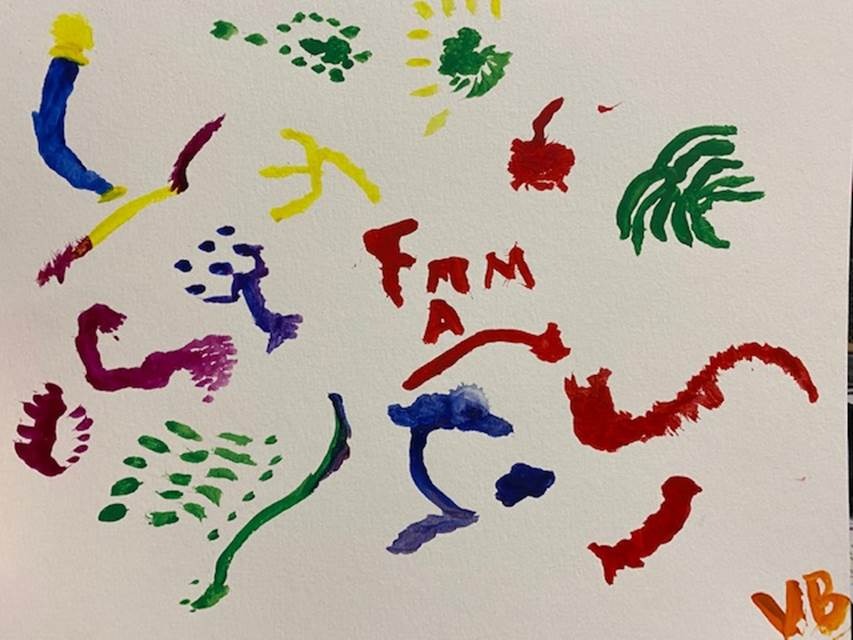 Then the care partner offered to do a FaceTime call with us so we could chat with her. About a half-hour later we received the call. Vivian was amazed at seeing both mine and Scott's faces on one screen at the same time. And her smile! At first, she moved the phone up close to her face trying to figure out exactly what this FaceTime thing was. She'd start talking about all the people who help her and her stomach giving her problems. Then the care partner mentioned the donuts.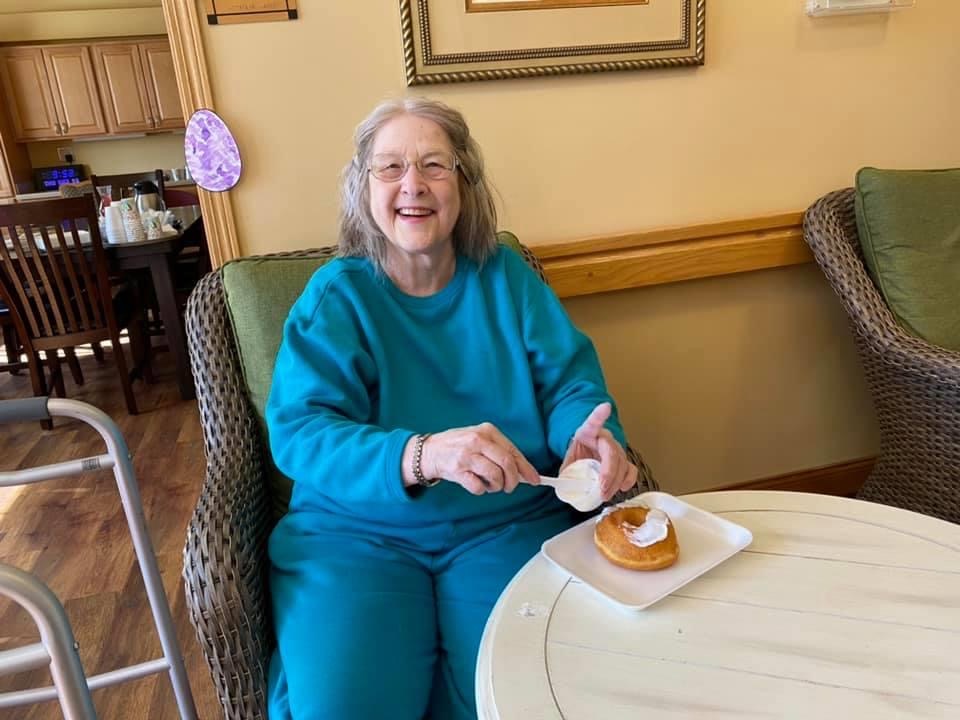 The residents decorated and then enjoyed donuts donated by Hurts. Vivian smiled and laughed and talked briefly about donuts and then started talking about her stomach again. She also told us about someone who came to help her. The care partner explained that is was physical therapy who came to work with her.
I think there are times she still doesn't understand where she's living because she kept saying things like, "I'll be here for a bit longer," but always with vague explanations. I suppose that is par for the course with dementia. She is rarely specific about anything she talks about. "That place," or "that thing," or "those people" and she claims she's always "so busy." But she always keeps smiling. It almost seems to be her way of accepting or coping with her situation that she doesn't entirely understand. She smiles when she sees us. We're so thankful that she still knows who we are. I fear that may not always be the case, but right now, seeing us assures her that everything is okay. And she keeps smiling.